Generate Realistic Database Test Data
Overview
Developers of Oracle database applications need test data in order to be able to check the validity of the applications. A database that is defined, but does not contain data, can not be used for making sure your application will work as designed. Datanamic Data Generator for Oracle provides the ability to quickly generate realistic database test data.
Benefits
With Datanamic Data Generator for Oracle you can automatically generate thousands of records for tables in your database. The tool generates appropriate data based on column charactistics such as column name, data type and constraints. You can easily customize the data generators if desired. No manual configuration is needed for generating consistent data for tables which are dependent on each other (referential integrity support). The tool makes Oracle test data generation easy and painless.
> Download Free Trial
Key Features
Generate meaningful test data
Data generation based on column characteristics
Populate database directly or generate insert scripts
Customize data generators (if desired)
Large collection of predefined (country/language specific) generators
Create (and reuse) your own generators
Project-oriented
Support for Oracle 9i, 10g, 11g and 12
> All Features
Datanamic Data Generator for Oracle
is a powerful data generator that allows developers to easily populate databases with thousands of rows of meaningful and syntactically correct test data for database testing purposes. The tool reads your Oracle database and displays tables and columns with their automatically assigned data generation settings. You can customize these data generators if desired. The tool can be used to generate test data from scratch or from existing data. A large collection of predefined data generators based on lists (such as cities, currencies, names, addresses, and much more) or expressions (such as postal codes for example) is included. You can create your own named generators which you can use in other test data generation projects also.
Writing your own test data generators or scripts is time consuming. With Datanamic Data Generator for Oracle you have test data with just a few clicks. The tool can be used by DBAs, developers, or testers, who need sample data to test a database-driven application.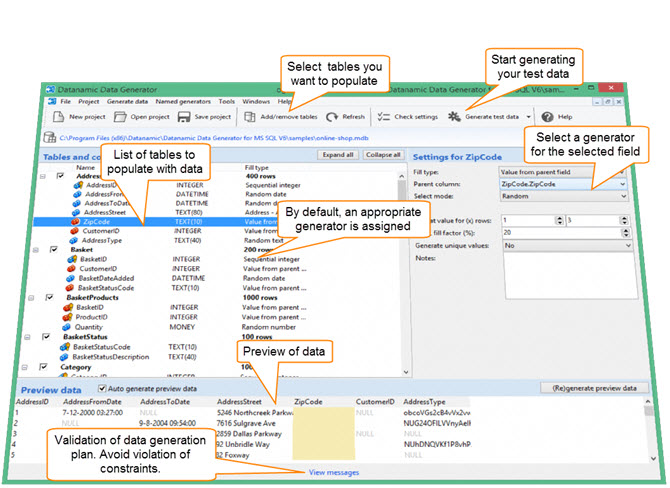 Related Tools

Datanamic DataDiff for Oracle
Synchronize data in Oracle databases.

DeZign for Databases
Database design and modeling tool.