New in Version 2
Here you can find out more about the new features and enhancements in DB Data Generator V2. DB Data Generator Version 2 is a free upgrade for existing Version 1 customers.
Note: Release notes for updates and/or DB Data Generator version history can be found here.
Generate data sourced from another table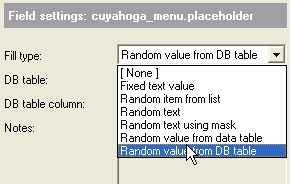 You can now generate data that is sourced from another table from within the database. This database table could also contain data that was randomly generated within the same session.

To achieve this, go to the field settings pane and simply select "Random value from DB table" from the fill type combo box. Select the source table and a field from the source table (also in the field settings pane) and you're done.
Expanded the number of validations for settings
Before you start generating test data, DB Data Generator will validate your settings to avoid data insert failures. In version 2 this has been enhanced to handle much more complex field settings.


Support for Schemas/Owners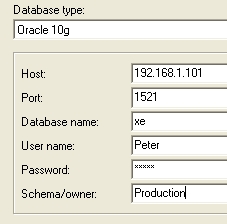 A lot of databases support schemas these days. Schemas essentially partition a single database into multiple "namespaces" which can have different privilege levels. In DB Data Generator V2 you can now select a schema when you connect to your database. When you have selected a schema, you will only see those tables associated with that schema. Specifying a schema name is optional. When you did not specify a schema name, you will see all tables.

In version 2, you will now also see the schema names in the generated SQL script.
Performance improvements when inserting data
Now insert data up to two times faster than before. Uni-directional SQL queries accounts for 60% of the all new speed increase in DB Data Generator V2. The rest of the speed increase is a result of the fine-tuning of the functions used to get the random data.
All features
|
Try
|
Buy