What's New
The ultimate database test data generation tool is better than ever. Datanamic Data Generator Version 5 has a complete new user interface, improved sample data generation, a new "test run" option, a new synchronized selection option and much more...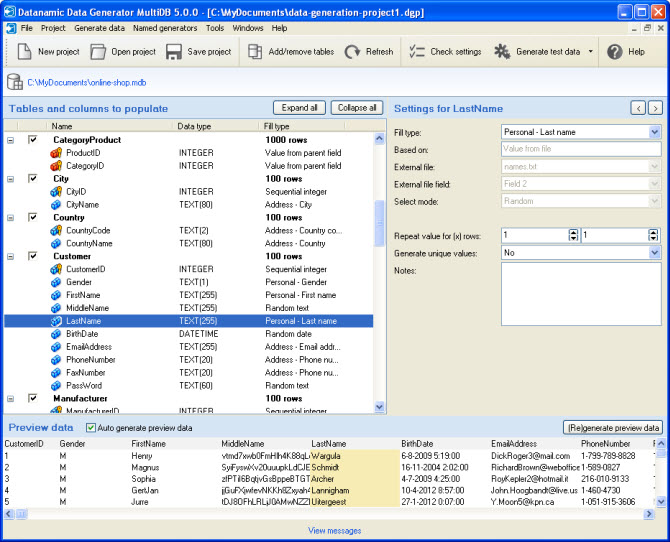 From now on you can select the tables you want to populate in the list of tables in the main dialog.
Complete new user interface.
Multiple data generation plans (projects) can be opened and edited at the same time.
Auto highlight the column in the preview data grid when the corresponding field is edited or is selected.
New "test run" option when generating test data. Do a full execution of the plan, or execute only a part (e.g. 10%) of the data generation plan.
Field settings: Added the option for "synchronized selection" to the "select mode" combobox. Synchronized selection is available when your fill type is a table or a view. It means that the cursor in the table/view will not change for each field. If you do not set "synchronized selection" then the cursor will be moved each time data is fetched (so for each field).
You can now specify a random or sequential select mode when your fill type is "Value from Parent Field".
The number of generated preview records will not exceed the specified number of rows to generate for that table anymore.
Generated or selected empty strings (for fill type value from lists for example) are now inserted as NULLs by default.
Improved error messages when generation of preview data fails.
Added the option to fill a column with an exact numeric data type from a CSV file or from a list.
Use custom filters when selecting the tables you want to add to your project.
Now easily navigate to related tables from the table settings pane.
New option to turn off automatic sample data generation.
New select fill type combo box for easier selection of generator.
Added support for MS SQL Server 2012 and SQLite databases.
Enhanced Oracle connectivity. Added instant client support and RAC support.
Intelligent determination of number of records to generate.
Version history
.