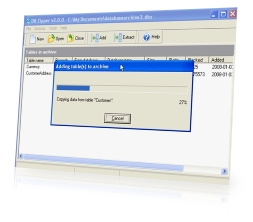 DB Zipper
is a database tool that processes table data and table structures from any database into a compressed database archive file (*.dbz). With DB Zipper you can extract your (selected) tables from the database archive file to any supported target database.
Database archive files are "archives" used for distributing and storing database tables. One database archive can hold tables from multiple databases. Database archive files can be archived, e-mailed, checked into source control, run against another databases etc. DB Zipper is the easiest way to distribute any database on a corporate intranet, the Web, e-mail or CD-ROM.
DB Zipper is exceptionally easy-to-use and it works like the regular compression applications for files but instead of files DB Zipper works with database tables.
Use DB Zipper to:
Move your database from A to B
Backup and restore tables
Simplify database deployment
Translate tables from database type A to type B
Compress tables as a .dbz file (DB Zipper file)
DB Zipper Key Features and Benefits
Archive and compress your database data accurately and quickly

Connect to a database and select the tables to archive. DB Zipper will then add those tables and the data to a database archive file (.dbz).

Extract data to any target database

Open a database archive file (.dbz), select the tables to extract and connect to a target database. DB Zipper will now insert the data into the selected target database.

Command line options

Command line interface enabling you to work with scheduled backup/restore jobs.

Option to create tables on target database

A database archive file also holds the table definition for each archived table. When you extract to a database you have the option to create the table on the target database.

Cross database platform support

Archive tables from one database platform (for example MS SQL Server 2005) and extract the tables to another database platform (for example Oracle 11).

Large archive file support

A database archive file can contain gigabytes of data.
> Complete List of Features...
Supported Databases
Supported databases: Oracle, MySQL, MS Access, MS SQL Server, PostgreSQL, InterBase, Firebird (
More info
).