Deploy SQL Scripts With A Single Click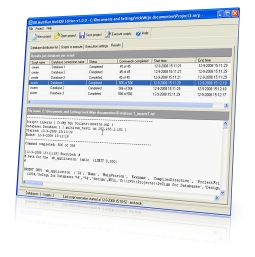 Key Features
Fast parallel execution of multiple SQL scripts
Error handling settings
Speeds up database administration tasks
Execution results browser
Execute scripts against multiple databases
Command-line utility included
Supports multiple databases (native drivers): MySQL, Oracle, PostgreSQL and MS SQL
Datanamic MultiRun MultiDB
is a simple tool to quickly execute multiple SQL scripts against multiple databases. The tool supports multiple database platforms. MySQL, Oracle, PostgreSQL and MS SQL are supported.
Define a list of databases, add SQL scripts to execute on these databases and click execute to run those scripts on the databases in the list. The multi-threaded execution of the SQL scripts makes it complete the task fast. After execution of the scripts you can examine the results of the executed scripts on each database in the results browser.
You can control what must be done when an error occurs while executing the SQL scripts: stop executing all scripts, ignore the error and continue, stop executing scripts on the database with the error, ...
This tool is a real time saver. No more annoying repetitive script execution tasks. Datanamic MultiRun MultiDB is an ideal tool for database professionals who need to deploy a bunch of SQL scripts to multiple servers.
Related Products
Datanamic SchemaDiff MultiDB
Compare and synchronize database schemas.

Datanamic DataDiff CrossDB
Cross database platform (for example: MySQL, MS Access) data synchronization.