Keep The Structure Of PostgreSQL Databases Synchronized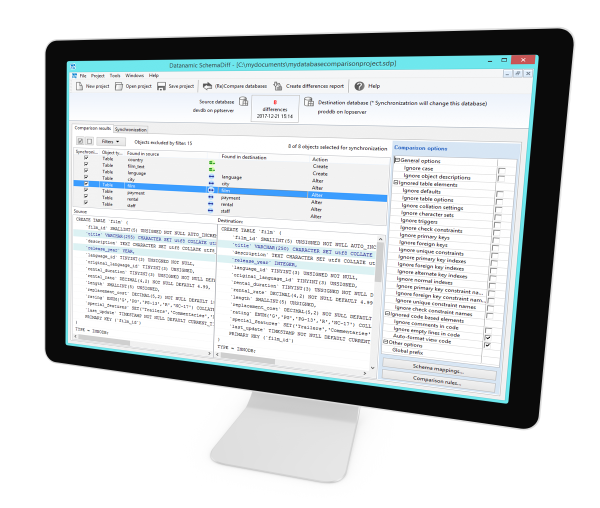 Compare and synchronize PostgreSQL schemas
Visualize the differences between database schemas
Generate synchronization scripts
Intelligent mapping of (renamed) database objects
Includes a command-line utility
Keeping the structure of two PostgreSQL synchronized can be quite a challenge. DBAs often spend significant time creating complex synchronization scripts, even though the update itself might be a simple one.
Datanamic SchemaDiff for PostgreSQL allows you to compare the structure of two PostgreSQL database, view the schema differences, and automatically generate Data Definition Language (DDL) scripts (synchronization scripts) that you can use to update the schema of the destination database to match the schema of the source.
With Datanamic SchemaDiff for PostgreSQL you save time. Manual comparison and synchronization processes can be complex, error prone and time-consuming. With Datanamic SchemaDiff for PostgreSQL you get the full picture of database differences and you can deploy structure changes from one database to another database in just a few clicks. You can eventually further automate your database synchronization process by using the included command line utility.
Features
PostgreSQL Connectivity
Direct access to PostgreSQL databases.
Multiple PostgreSQL versions supported.
Supported PostgreSQL versions: 7, 8, 8.3 and 9.
Cross database versions comparison.
You can for example compare (and synchronize) a PostgreSQL 8.3 and a PostgreSQL 9.


Schema Comparison
Database schema to database schema comparison.
Connect to two PostgreSQL databases and compare the objects in those databases.
SQL script to database schema comparison.
Connect to a PostgreSQL databases and select a SQL script representing a database and compare the objects in both sources.
Schema mapping.
Mapping schemas enables you to compare database objects that belong to the same or different schemas.
Intelligent object mapping.
Mapping is used to connect the objects to be compared. Mapping of database objects in source and destination database is done based on names. If no object with the same name was found, intelligent routines are used to find out if an object must be mapped to an object with another name. It detects renamed database objects.
Compare all database object types. Compare tables, procedures, indexes, views, triggers, constraints etc.
Generate HTML reports with database differences.
Fine-tune the comparison with the comparison options.
You can control what is compared and what is seen as a difference. Use the comparison options such as case insensitivity, ignore constraints and 30 other options, for that.
Schema Synchronization
Synchronize complete database or selected objects.
You can select the database objects you want to synchronize.
Intelligent alter script generation.
Generated synchronization script handles object dependencies.
Fine-tune the synchronization process with synchronization options.
You can ignore table elements or objects descriptions for example, for synchronization.

Presentation Of Differences
Visual representation of differences.
A side-by-side, colour-coded comparison overview makes it easy to pinpoint at a glance similarities and differences between two database objects.
Summary of differences between two databases.
The summary includes objects in source but not in destination (or vice versa), identical objects and the totals of selected objects. You can easily copy the summary to the clipboard.
Object type filtering.
Filtering the comparison results enable you to limit the display of objects to certain types of database objects (for example, show only tables and/or views).
Status filtering.
Filter the comparison results based on the status (identical, different, etc...) of the compared object.
Automation
Automated object comparison and synchronization.
A command-line utility is included to automate your compare and synchronize process.
Project-oriented.
Save your comparison plan to a SchemaDiff project.

Tech specs
Operating System: Windows 10/8.1/8/7/Vista/XP
Memory: 1 GB minimum (2 GB recommended)
Hard Disk: At least 20 MB of free disk space
Databases: PostgreSQL 7,8, 9