New version (version 5) available. Read
here
what's new.
Reliable Cross-Database Platform Data Comparison and Synchronization Tool.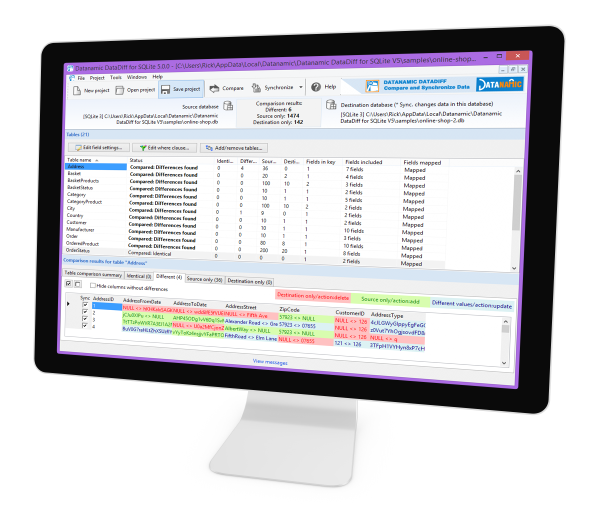 Compare data in two databases
Cross database platform synchronization
Supports MySQL, Oracle, MS SQL, MS Access and PostgreSQL
Define custom comparison keys
Automated data synchronization with included command line utility
Customize table and column mappings
Project-oriented: Save your comparison plan
Datanamic DataDiff CrossDB allows you to compare and synchronize data across databases of different types. You can use the tool for performing data migrations, auditing data or copying data in databases.
With its intuitive user interface and fast comparison routines, the tool gives you the full picture of all data differences in just a few seconds. The tool can compare and synchronize data between any of the following databases: Oracle, MySQL, MS SQL, MS Access and PostgreSQL (e.g. compare and synchronize an Oracle database with a MySQL database). Unlike other cross platform tools, Datanamic DataDiff CrossDB does not use a 'middle layer' such as ODBC to get access to the data in the database. Our tool uses more reliable native connections and automatically uses data conversion routines when the source and destination data is of a different type.
Compare data for selected tables in two databases, view differences and publish the data changes (synchronize) quickly and safely. You can generate a synchronization script or apply the changes on the destination database directly. Flexible comparison options enable you to control the way the comparison routines work. Custom mappings of tables and columns are allowed. Column data types don't have to match. Datanamic DataDiff CrossDB will convert the data automatically in such a way that it can be compared.
Datanamic DataDiff CrossDB will save you long hours of manual work, providing you with a fast synchronization tool. You can also automate your comparison and synchronization processes with the included command line utility.
What Can Datanamic DataDiff CrossDB Do For Me?
Datanamic DataDiff CrossDB can be used for synchronizing data, data auditing, data migrations, verification of (corrupt) data etc.
Who Should Use Datanamic DataDiff CrossDB?
Datanamic DataDiff for CrossDB can be used by database administrators, developers, testers that need a quick, easy and reliable way to compare and synchronize database data in databases on different database platforms.
Features
Database Connectivity
Multiple databases supported.
The following databases are supported:

Oracle 9i, 10g, 11g and 12. Works without Oracle client software.
MS SQL Server 2000, 2005, 2008, 2012, 2014 and 2016.
MySQL 3,4 and 5.
PostgreSQL 7,8 and 9.
MS Access 2000, 2003, 2007, 2010 and 2013
SQLite

Cross database platform and cross database version comparison.
Comparison and synchronization across database platforms and versions is supported. e.g. compare a MS SQL 2005 database with an Oracle 11 database.
Database specific drivers.
Good cross database platform synchronization require different connectivity drivers for each database. Datanamic DataDiff CrossDB uses different native connectivity drivers for each supported database and each driver "knows" how to transfer and convert data from one platform to the other platform.


Data Comparison
Compare data across databases of different types.
For example: compare a MS SQL 2008 database with an Oracle 11 database.
Compare selected fields.
You don't have to compare all fields in a table. You can define which fields to compare. Unique is that that does not mean that you cannot synchronize excluded fields. You can always synchronize a field, even if it was not included in the list of fields to compare.
Define custom comparison keys.
A comparison key is automatically selected if your tables contain a matching unique key. You can also define your own comparison key (any combination of the fields of that table).
Comparison options.
Control the way data is compared. Ignore spaces, trim strings, match NULL to empty string, case-insensitive comparison, etc.
Fast comparison of large databases.
Optimized memory usage and comparison routines make Datanamic DataDiff CrossDB one of the fastest products for large databases.
Supports comparing binary data.
Special routines guarentee fast comparison of binary data. The comparison results grid includes a special viewer for binary fields.
Data filtering with WHERE clauses.
You can define a where clause on each source and/or destination table.
Compare fields with different data types.
When the data types in the fields to compare differ, the data is automatically converted in such a way that they can be compared.
Mapping tables and columns.
Tables and columns are automatically mapped based on their names. You can manually map any table and column.
Export comparison results.

Export all or selected comparison results to one or more CSV files.
Data Synchronization
Synchronize directly on database or generate a update script.
Refertial integrity support.
Datanamic DataDiff CrossDB handles data dependencies and referential integrity during comparison and synchronization. To speed up synchronization you have got the option to disable foreign keys during synchronization.
Partial synchronization.
Partial synchronization allows you to synchronize only selected columns and/or only selected records.
Synchronize binary data.
Synchronization fo binary data is supported when you synchronize directly on the database.
Warnings on record level for potential errors during synchronization.
Warnings appear in the comparison results grid when synchronization might lead to invalid data. This is the case when the destination field for example requires a value but the value that is gonna be inserted is a NULL value.
Exclude fields for synchronization on project level.
In the project options dialog you can define a list of field names for fields you don't want to synchronize. This way you don't have to exclude those fields manually. This is very useful to exclude columns used for auditing purposes.


Presentation Of Object Differences
Visual representation of differences.
A side-by-side, colour-coded comparison overview makes it easy to pinpoint at a glance similarities and differences between two database objects.
Summary of differences between two databases.
The summary includes objects in source but not in destination (or vice versa), identical objects and the totals of selected objects. You can easily copy the summary to the clipboard.
Object type filtering.
Filtering the comparison results enable you to limit the display of objects to certain types of database objects (for example, show only tables and/or views).
Status filtering.
Filter the comparison results based on the status (identical, different, etc...) of the compared object.
Automation
Quick overview of differences.
Easy-to-use navigation through the color-coded data differences.
Automated comparison and synchronization.
A command line utility is included to automate your data compare and synchronize process.
Clear user interface.
Project-oriented.
Save your data comparison plan to a DataDiff project for later re-use.
Detection of metadata changes.
You do not have to reconfigure your complete compare plan when the structure of a source or destination table has changed. Datanamic DataDiff CrossDB will do that for you automatically.

Tech specs
Operating System: Windows 10/8.1/8/7/Vista/XP
Memory: 1 GB minimum (2 GB recommended)
Hard Disk: At least 20 MB of free disk space
Databases: Oracle 9i, 10g, 11g, 12 - MS SQL Server 2000, 2005, 2008, 2012, 2014, 2016 - MySQL 3,4, 5 - PostgreSQL 7,8, 9 - MS Access 2000, 2003, 2007, 2010, 2013, SQLite
Try Datanamic DataDiff CrossDB for free
Start synchronizing your database data today.
Download free trial
Save with Bundles
If you buy our software in bundles you save a great deal of money on the price of the individual database tools.