What's New in Version 8
DeZign for Databases V8 introduces great new features like teamwork with a central repository, dynamic highlighting, new auto-layout routines for model diagrams, new object selection methods and inline highlighting of differences. Read all about the new features here on this page.
Teamwork With Central Repository Database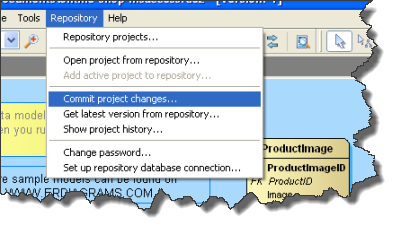 The new Datanamic Repository is a data model repository solution that is available as an add-on for the DeZign for Databases Professional and Expert Edition to provide comprehensive capabilities allowing you to share and collaborate on data modeling. Features include access control, versioning and change tracking.
The Datanamic Repository technique allows more than one user to work with the same data model. The data model/project file is stored in the repository database and every developer working with the DeZign for Databases Teamwork Edition can work on the project individually. Later changes can be committed to the repository database and shared with the team. The repository works much like the source code version control system with conflict resolution and automatic merging.
The Datanamic Repository is a free central repository and can be hosted on Oracle, MySQL, MS SQL or PostgreSQL databases.
For evaluation purposes a local repository is installed with the trial edition and all full version editions.
Available in the Teamwork Edition.
Dynamic Highlighting of Related Objects in Diagram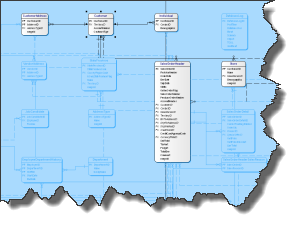 The new highlighter tool lets you highlight related objects of the object you select. You can select which kind of related objects must be highlighted when you select an object: parents, children, parents and children, or transitive. Transitive means that all related (recursive) objects will be highlighted. By selecting more than one "master" object, you can highlight related objects of multiple objects. This way you can for example highlight related objects of related objects, etc.
With dynamic highlighting it is easier to understand complex data models because it lets you divide your data model in logical parts while browsing through the data model.
Available in all editions.
Inline Highlighting of Differences

When you compare your data model to the database, the comparison results pane displays the differences between two objects. Instead of simply showing that two lines of an object definition are different, it now also highlights the individual differences inside that line of the object definition. This way you will have a better and faster view of the differences in detail.
Available in the Professional, Expert and the Teamwork edition.
New Auto-Layout Routines for Model Diagrams.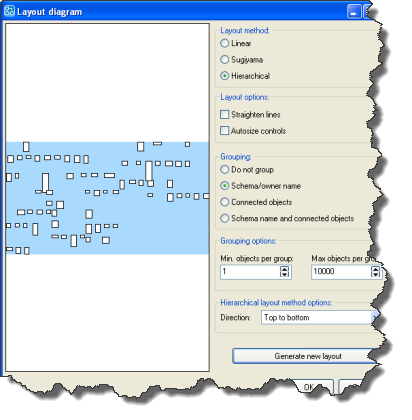 New advanced auto-layout routines and options help to organize the data model into easy-to-analyse views.
In the new version you have the option to choose which layout routine will be used: linear, hierarchical or sugiyama. In addition, you have the ability to group the objects. You can group by schema name and you can group by connected objects. Use the layout option "straighten lines" and "auto-size entities" to fine-tune the layout.
A new layout is not directly applied to your active diagram anymore. A preview of the new layout is shown first. This is done in the new Layout diagram dialog.
Available in all editions.
Enhanced Object Browser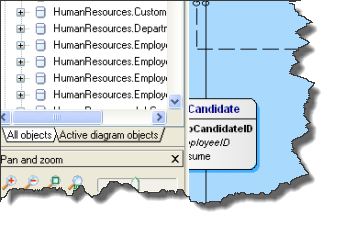 In the Object Browser you can now choose to limit the number of objects being listed. You can hide database objects that do not exist in the active diagram. The Object Browser now has a tab to list all objects and a tab to list active diagram objects only.
Also new is that when you double click on a folder node (views, domains, procedures and sequences), the appropriate editor will be opened automatically.
Available in all editions.
New Object Selection Methods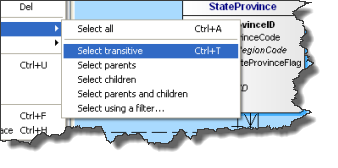 Selecting one or more objects is a very common task when using DeZign for Databases and that's why the new object selection methods will boost your productivity. The selection menu has been extended with the option to make a selection based on the relation between the objects: select parents, children, parents and children, or transitive.
Another new selection method is to make a selection using a filter. You specify criteria by which to filter and you can define an include and/or exclude filter. You can use wildcards in your filter string if desired.
By using these new selection methods you can easily make a selection of related (or filtered) objects for a new subdiagram for example.
Available in all editions.
Easier Navigation With Extended Hand Tool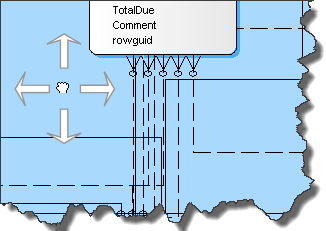 The hand tool is a faster way than using the scroll bars of your diagram window to navigate around your diagram, because you can also move diagonally. Moving a diagram with the Hand tool is like moving a piece of paper on a desk with your hand. From now on you can save the time it takes to switch tools. Simply hold down the Ctrl key to activate the Hand tool while dragging in your diagram.
Available in all editions.
This list is not complete. Version 8 contains many more new features and enhancements. You can read the complete list of changes in the version history.