What's New
Datanamic SchemaDiff Version 4 provides a more efficient way to compare and synchronize your database schemas: improved synchronization scripts, a new user interface, instant generation of synchronization scripts, powerful custom comparison rules and much more...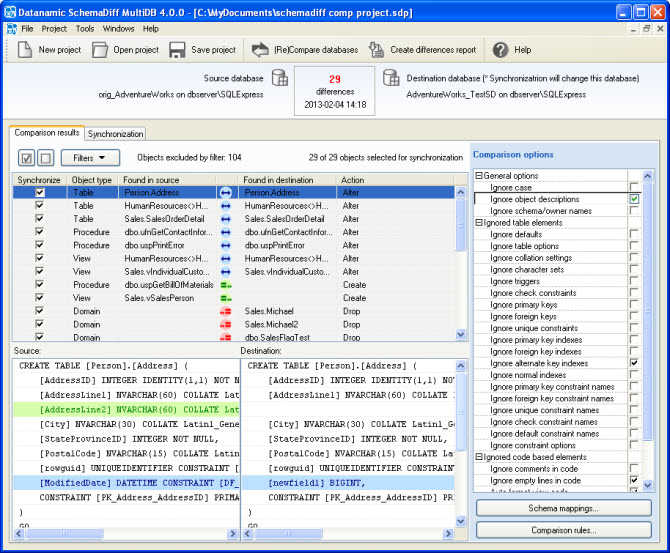 Complete new user interface.
Multiple projects interface.
Added the option to define custom comparison rules. With custom comparison rules you can control what will be seen as a difference. You can for example define a comparison rule that says that data type INT is identical to INTEGER.
Instant synchronization script creation.
New code editor.
Custom include/exclude filters for object names to control which objects will be read from the database.
Create custom filters to filter the comparison results.
Added the option to ignore sequence seed values in comparison results.
Fixed an issue with importing SQL files. When an entity was defined without schema name, but the relationships, triggers and indexes did make use of a schema name, it did not import the relationship/index correctly.
Improved support for importing unicode text for MySQL, Oracle and MS SQL Server database.
Improved support for importing SQL files with use of temporarily redefined delimiters.
Improved differences report.
Fixed an issue with changed sequences not being recreated when altering the database.
Fixed an issue with missing comments in the generated alter script when it was necessary to re-create a complete table.
See also:
Complete version history
.